EQUUS XXVI - A Starlight Soiree
EQUUS SPONSORS SUPER STAR NOTES EQUUS COMMITTEES
Among the twinkling lights and shooting stars, almost 300 attendees gathered to honor Linda Dietz, President of the Board of Directors at Mane Stream's EQUUS XXVI Gala on November 4th at Fiddler's Country Club in Bedminster. The gorgeous venue, live band and delicious food made for a brilliant fundraising event which had outrageously fun items and exciting vacations in both the live and silent auctions.
A Junior Committee worked diligently to create a heartfelt video highlighting the stories of two participants and the impact Mane Stream has on their lives. We look forward to sharing this piece with everyone soon.
Yet another emotional highlight of the evening was the video created by Lucy Freidland, in memory of her brother Adam. Last year we dedicated our "giving pyramid" to Adam and this year we officially named it Adam Friedland's Helping Hands. The outpouring of generosity from our guests for our mission was a wonderful tribute to Adam, and by naming the pyramid for him, we have guaranteed that his spirit will always be remembered at Mane Stream.
Mane Stream relies on the generosity of our gala attendees and this year the response was overwhelming, ensuring that our hard-working herd will stay happy and healthy. This enables Mane Stream to support the many programs offered including adaptive riding, equine assisted therapies (OT, PT, and Speech-Language), Matheny School, Horses for Healing for those living with or recovering from cancer and Take the Reins for Veterans.
BRILLIANT STARS
A Friend of Mane Stream
Kirk Kellogg & Emily Maillet
SHOOTING STAR
Linda & Alvin Dietz, Julia & Bob Greifeld, Hal & Kathy Kamine, Steve & Karen Kaufhold, Michael & Jaimie Morais, Open Road Auto Group, Rod & Dianne Ryan, Lee & Justin Sadrian
TWINKLING STAR
Advance Realty, Colonial Wire & Cable Company, Dave McShane, Sandy Olson, Jake & Marianne Saladino, Kevin & Betsy Sullivan, Larry Wellpler & Mady Devine
Thank you to everyone who sent in a super star note honor your favorite Mane Stream Star (board member, volunteer, participant or horse)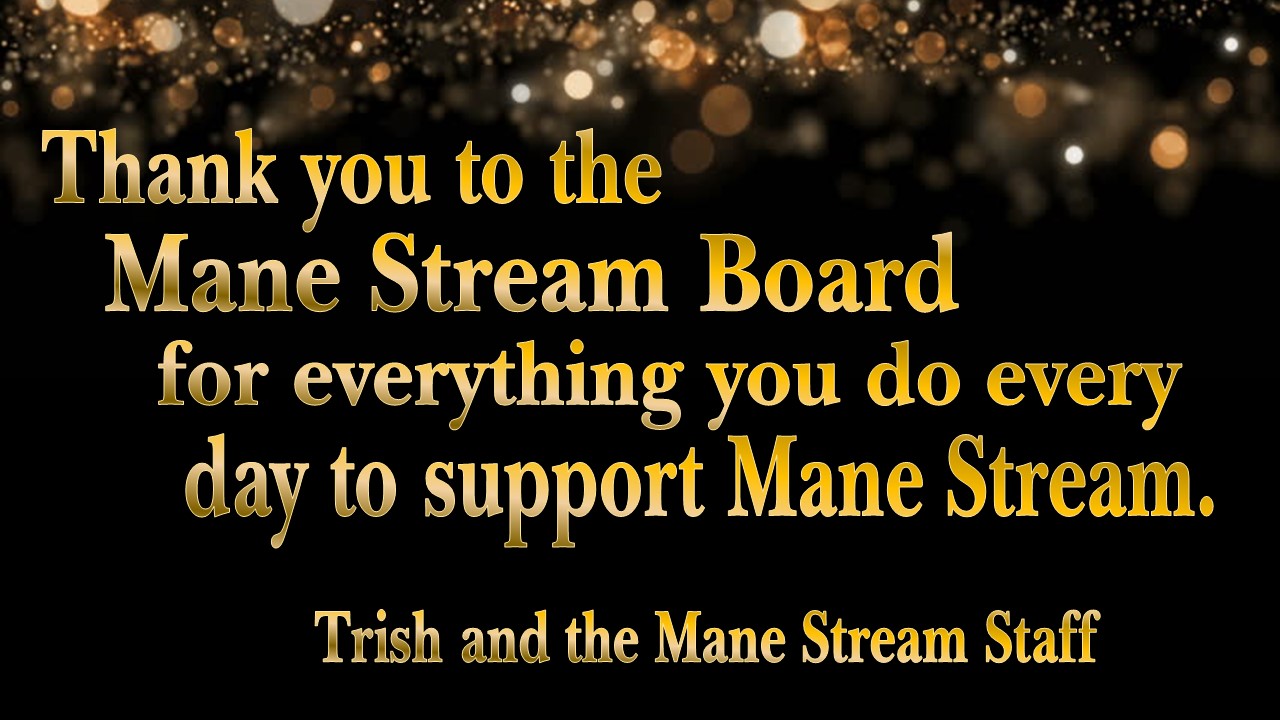 Gala Committee
Laura Brucker - Gala Chair
Cynthia Barkman, Krissy Binder, Kristin Brucker, Lora Butler,
Sherry Donovan, Dawn Drozjock, Lynn Evans, Jill Friedland,
Stephanie Glickman, Kathy Kamine, Karen Kaufhold, Kelly Ketterson,
Keri Kutakoff, Desiree LaTorre, Emily Maillet, Donna Marki, Beth Mikosh,
Jaimie Morais, Tina Osmond, Julia Peter-Kerr, Yvonne Previdi, Lashana Reale,
Susan Reale, Jeanne Rogalin, Marianne Saladino, Kristen Sameth, Jennie Weil,
Rael Welsh, Renee Wood
Junior Committee
Lucy Friedland, Chair
Lily Binder, Jack Brucker, Joei Drozjock, Sami Kutakoff,
Robbie Maffucci, Lauren Radi, Caroline Sameth
Gala Night Volunteers
Amy Barkman, Kathy Dermody, Julie Doyle, Laura Edleson, Michelle Geise,
Nancy Grossweiler, Meg Mikrut, Karen Vogt